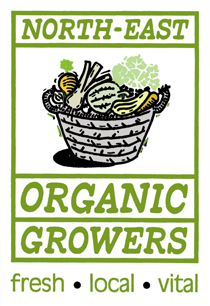 ATTENTION: Due to an unprecedented rise in demand we have decided to temporarily suspend new customer registrations.
It is important for us to provide good service to all of our existing customers, and unfortunately we only have so many box packers, drivers and vans! We plan to reopen registrations once these logistical issues are resolved.
Please like our Facebook page to receive the latest updates from North East Organic Growers, including news of when we reopen new customer registrations.
Thank you for your patience and understanding.
Box scheme information
Our box scheme is a pretty simple system. Customers place a regular order for the type of veg and fruit bags they want, and contact us to add extra items to their order. The veg is harvested and bags put together at our premises near Bedlington. On Wednesdays and Thursdays the bags are delivered to our Collection points throughout the region and then collected by you.