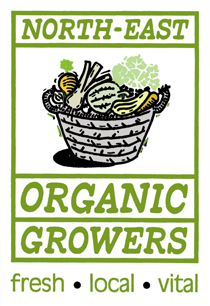 ATTENTION: Due to an unprecedented rise in demand we have decided to temporarily suspend new customer registrations.
It is important for us to provide good service to all of our existing customers, and unfortunately we only have so many box packers, drivers and vans! We plan to reopen registrations once these logistical issues are resolved.
Please like our Facebook page to receive the latest updates from North East Organic Growers, including news of when we reopen new customer registrations.
Thank you for your patience and understanding.
Extra Items
We offer a range of produce which you can add to your regular veg and fruit bag order. Please contact us to add extra items to your order.
Please note:
These products are currently available to customers of NEOG
Conversion: 0.45kg = 1 lb
Customers wishing to buy a whole box/sack will receive a 20% discount on the price given below.
Fruit
| | | |
| --- | --- | --- |
| Apples | UK | £3.30 /kg |
| Bananas (Fairtrade) | Dominican Republic | £2.20 /kg |
| Grapefruit (Red) | Spain | £2.50 /kg |
| Kiwi | Italy | £3.00 /kg |
| Oranges | Spain | £2.30 /kg |
| Lemons | Spain | £2.75 /kg |
Vegetables
| | | |
| --- | --- | --- |
| Garlic | Grown by us | £8.00 /kg |
| Potatoes | UK | £1.40 /kg |
| Carrots | UK | £1.90 /kg |
| Onions (White) | UK | £2.00 /kg |
| Mushrooms | UK | £6.50 /kg |
Other products
| | | |
| --- | --- | --- |
| Organic Eggs (Half Dozen Large) | UK | £2.20 |
| Organic Apple Juice (1 Litre) | UK | £3.00 |
| 200g Organic mushrooms | Northern Ireland | £1.30 |
| Honey (340g jar) - Non-Organic from Northumberland/Borders | Northumberland/Borders | £4.50 |
| Wheat Organic Sourdough Loaf - 800g | Northumberland | £2.90 |
| French country Organic Sourdough Loaf - 800g | Northumberland | £2.90 |
| Malthouse Organic Sourdough Loaf - 800g | Northumberland | £2.90 |
| Spelt Organic Sourdough Loaf - 800g | Northumberland | £2.90 |