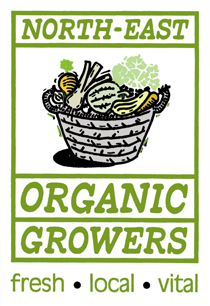 Extra Items
We offer a range of produce which you can add to your regular veg and fruit bag order. Please contact us to add extra items to your order.
Please note:
These products are currently available to customers of NEOG
Conversion: 0.45kg = 1 lb
Customers wishing to buy a whole box/sack will receive a 20% discount on the price given below.
Fruit
| | | |
| --- | --- | --- |
| Apples | UK | £3.20 /kg |
| Bananas (Fairtrade) | Dominican Republic | £2.30 /kg |
| Grapefruit (Red) | Spain | £3.00 /kg |
| Kiwi | Italy | £4.00 /kg |
| Oranges | Spain | £3.00 /kg |
| Lemons | Spain | £3.00 /kg |
Vegetables
| | | |
| --- | --- | --- |
| Potatoes | UK | £1.60 /kg |
| Garlic | Grown by us | £7.00 /kg |
| Carrots | UK | £2.00 /kg |
| Onions (White) | Grown by us | £2.00 /kg |
| Mushrooms | UK | £7.00 /kg |
Other products
| | | |
| --- | --- | --- |
| Organic Eggs (Half Dozen Large) | Northumberland | £2.35 |
| Organic Apple Juice (1 Litre) | UK | £3.20 |
| 200g Organic mushrooms | UK | £1.40 |
| Honey (340g jar) - Non-Organic from Northumberland/Borders | Northumberland/Borders | £5.40 |
| Wheat Organic Sourdough Loaf - 800g | Northumberland | £3.60 |
| French country Organic Sourdough Loaf - 800g | Northumberland | £3.60 |
| Malthouse Organic Sourdough Loaf - 800g | Northumberland | £3.60 |
| Spelt Organic Sourdough Loaf - 800g | Northumberland | £3.60 |
| 5 grain seeded loaf (800g) | Northumberland | £3.70 |